Family Mass Hospitality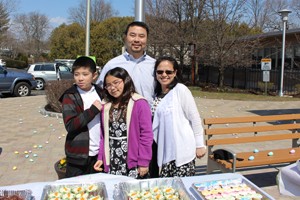 A gathering of parishioners in a social setting after the 10:30 am Sunday Family Mass in the Parish lobby promotes Parish community and fellowship.
For more information, please contact Eileen Donovan at 914-723-7245 (or eileendono@yahoo.com).
To volunteer in this ministry, please sign up by clicking on this link and completing the form.
INSTRUCTIONS FOR HOSPITALITY SERVICE AT THE 10:30 MASS
Thank you for agreeing to host our St. Pius X Sunday Hospitality Table.  Your service is greatly appreciated by all.
Supplies you will bring:
Milk (1/2 gallon)
Juice (2 gallons)
Snacks (8-10 boxes of munchkins/cookies) (Smaller, bite-sized snacks are ideal.)
Supplies provided by the Church:
Coffee
Sugar
Napkins
Tablecloth
Stirrers
Hot Cups
Cold Cups
Please arrive at least 15 minutes prior to Mass to set up and leave Mass before the end of the closing hymn so that the hospitality table is staffed before the congregation leaves the Church.
BEFORE MASS:
Place one folding table in front of the Memorial Wall with a large garbage pail next to the table;
Put a tablecloth on the table;
Put cold cups, napkins, drinks and snacks on the table;
Fill the coffee urn with cold water from the janitor's closet for 15-20 cups of coffee, place coffee in the urn for 15-20 cups of coffee and plug the urn into the outlet in the kitchenette (On an average Sunday, 15-20 cups of coffee is more than enough, so please don't make a full potas it is only wasted.); and
Put stirrers, 20 hot cups, sugar, milk and napkins next to the coffee urn on the kitchenette counter.
The folding table and garbage pail are in the janitor's closet and the other supplies provided by the Church are in the cabinets/drawers in the kitchenette. (If the janitor's closet is locked, ask one of the Priests to open it for you.)
AFTER HOSPITALITY:
Discard used items (e.g., used coffee grinds, used cups, used napkins, etc.);
Wash the coffee urn in the janitor's room and put the urn back on the kitchenette counter;
Wipe and dry the tablecloth and kitchenette counter;
Put the unused leftover supplies and tablecloth back into the drawers/cabinets in the kitchenette;
Tie the garbage bag and place it in the janitor's closet;
Put a new bag in the garbage pail;
Fold the table; and
Put the garbage pail and table back into the janitor's closet.
NOTE: We suggest that you initially hold back some of the treats and replenish, as needed. Please save some treats for our altar servers.
Thank you for volunteering and making St. Pius X a vibrant and welcoming Parish!
---