Youth Ministry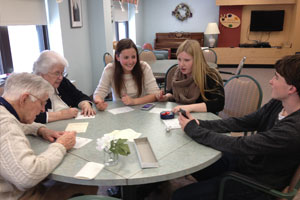 The St. Pius X Youth Ministry Group endeavors to build fellowship among our Parish's teens while teaching them more about the Catholic faith and serving the community. In addition to performing various community service activities, the group has seen Newsies and Superman on Broadway and enjoyed Ragtime at the local dinner theater. All teens participating in the Youth Ministry are awarded Certificates of Participation. Teens performing at least 20 hours of community service receive the "Light of the World" Award and the member with the highest number of hours receives the "Salt of the Earth" Award.

This ministry is open to all high school students (grades 9 through 12) who are members of our Parish and any adult who would like to serve as an adult team leader or adult chaperone.
The Youth Ministry engages in various community service activities on a regular monthly basis during the academic school year and Masses specifically for our teens are held at least twice a year. (Click the calendar to the right to see a larger version of the Youth Ministry Calendar!)
For information contact:
Father Jose Ramos: (W) 914-7252755; (C) 914- 420-3764;
(E) jramos0976@yahoo.com
Joey Fournier: (H) 914-713-3974; (E) jjdfournier@optonline.net
Gloria Gomez-Lago: (C) 914-826-3725; (H) 914-923-1749;
(E) g.gomez66@gmail.com
Renee Latorre: (C) 914-391-0302; (E) reneelatorre@gmail.com
Trish Marolda: (C) 914-58402586; (E) triciamarolda@aol.com
Some of the organizations serviced by the Youth Ministry Group include:
Andrus Children's Center, Yonkers, NY
Our volunteers spend an afternoon playing sports or doing arts and crafts with children suffering from a variety of emotional illnesses or the effects of trauma, neglect or abuse.
Blythedale Children's Hospital, Valhalla, NY
Our volunteers spend an afternoon doing arts and crafts projects and visiting patients between the ages of 5 and 18 with complex medical illnesses and conditions.
Food Bank of Westchester, Elmsford, NY
Our volunteers tour the Food Bank and bag food for distribution to clients of the Food Bank.
Hope Soup Kitchen, New Rochelle, NY
Our volunteers spend a couple of hours in the early evening serving dinner to clients of the soup kitchen, prepare "take-away" meals for distribution at the end of the meal and clean up after dinner.
Kensington Assisted Living Residence, White Plains, NY
Our volunteers spend an afternoon visiting with the seniors in residence, play board games, and talk about current events.
Marian Woods Assisted Living for Religious Sisters, Hartsdale, NY
Our volunteers visit Marian Woods, an institute for assisted living on Ridge Road for fifty religious from five different communities: The Sisters of Mercy, Blauvelt Dominicans, Franciscan Sisters of Peace, Blessed Sacrament Sisters, and Sisters of the Holy Child Jesus. They play board games and have interesting conversations with the retired religious nuns.
Midnight Run/Breakfast Run, Dobbs Ferry, NY
Midnight Run/Breakfast Run is a volunteer organization based in Dobbs Ferry, New York. Approximately 150 organizations in the Tri-State area including churches, synagogues, schools and other civic groups provide and distribute food, clothing, blankets and personal care items to the homeless poor on the streets of New York City. The relief efforts create a forum for trust, sharing, understanding and affection. The human exchange, rather than the exchange of goods, is the essence of the Runs. Through the Runs, volunteers come to see the homeless as real people and the homeless men and women learn that the volunteers care for them. (St. Pius also performs Runs aimed primarily at adult participation. See Midnight Run/Breakfast Run under Outreach/Social Action.) Two Saturday evenings per academic year, teens participate in a Midnight Run by sorting and tagging clothing and preparing food between 6 pm and 9 pm and, with adult supervision, 12 to 14 teens driving in caravans into NYC to distribute food and clothing and interacting with the homeless between 10 pm and 1 am.
One Sunday mornings per academic year, teens participate in a Breakfast Run by donating food, preparing a hot breakfast, driving in caravans into NYC, setting-up tables, serving a warm breakfast, cleaning-up and greeting the homeless from 8:00 am until 11:00 am.
Parishioners donate gently used clothing, sneakers, shoes, overcoats, blankets, backpacks, new underwear, new socks and new travel size toiletries; assist with sorting and tagging of donated items; shop for food; or provide financial support for miscellaneous costs of food and other items not donated.
---