Yoga Group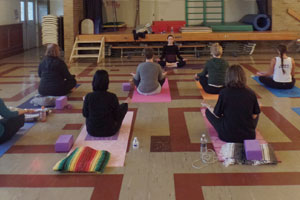 Parishioners gather in the Parish Pavilion to participate in yoga classes for the body and the mind. These classes are led by a certified Hatha Yoga Instructor in six week sessions on Wednesdays for adults between 7:00 pm and 8:00 pm, and Saturdays for children between 1:00 pm and 2:00 pm. Please see the Bulletin for dates.
Participants are asked to donate $15 per adult and $10 per child ($5 for each additional child). Half of the proceeds are kept by the instructor and half are donated to the Parish.
For more information please contact Jill Gettinger @ (914)-255-0282 or jegettinger@yahoo.com.
---