Religious Community of the Alagad ni Maria (Philippine Disciples of Mary)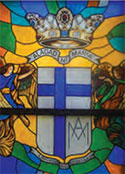 In 1976, a group of five young men from Don Bosco Technical College Mandaluyong in the Philippines formed a group to inspire devotion to the Blessed Mother and to strengthen the moral and spiritual welfare of their peers. The group expanded by recruiting young men from various high schools and, in 1990, the Religious Community of the Alagad ni Maria (or Disciples of Mary) was founded by Bishop Julio Xavier Labayen, OCD, DD, bishop emeritus of the Prelature of Infanta. Fr. Peter Edward M. Lavin, AM, the Moderator of the Alagad ni Maria Religious Community, is the only founding member who remains with the Community.
The Alagad ni Maria Religious Community seeks to continue Jesus' mission of salvation with the aid of Mary, the model disciple, in her special intercessory role with God, by building the Church and transforming the world through ministering to and enlightening youth. The Community, as God's human instruments, strives to imitate Mary's close participation with her Son in His mission of redemption, in her docility to the Holy Spirit, and in her compassion, life of prayer and penance, in a spirit of love and joy.
Followers of the Disciples of Mary are united by the bonds of love and fellowship wherein each member commits himself to help build up a fraternal, praying, apostolic Christian community. In practicing vows of poverty, chastity and obedience, members of this Religious Community promise to love God above all. A personal life of prayer is the heart of their spiritual life so that each disciple can strive to consciously give his whole life to God in order to discern God's Will and to grow in faithful and loving union with Him.
Please click here to meet our Pastoral Team.
---
Year at a Glance
View a calendar of events for the entire year.
Click here.
Participate
Become a member of the Church of Saint Pius X Family.
Click here.